𝖧𝖺𝗉𝗉𝗒 𝖥𝖺𝗍𝗁𝖾𝗋'𝗌 𝖣𝖺𝗒 𝗍𝗈 𝖺𝗅𝗅 𝗍𝗁𝖾 𝗂𝗇𝖼𝗋𝖾𝖽𝗂𝖻𝗅𝖾 𝖽𝖺𝖽𝗌 𝗈𝗎𝗍 𝗍𝗁𝖾𝗋𝖾! 🎉
Sunday, June 18, 2023 by Judy Stafford | Family
𝖧𝖺𝗉𝗉𝗒 𝖥𝖺𝗍𝗁𝖾𝗋'𝗌 𝖣𝖺𝗒 𝗍𝗈 𝖺𝗅𝗅 𝗍𝗁𝖾 𝗂𝗇𝖼𝗋𝖾𝖽𝗂𝖻𝗅𝖾 𝖽𝖺𝖽𝗌 𝗈𝗎𝗍 𝗍𝗁𝖾𝗋𝖾! 🎉
𝖳𝗈𝖽𝖺𝗒, 𝖨 𝗐𝖺𝗇𝗍 𝗍𝗈 𝗍𝖺𝗄𝖾 𝖺 𝗆𝗈𝗆𝖾𝗇𝗍 𝗍𝗈 𝖼𝖾𝗅𝖾𝖻𝗋𝖺𝗍𝖾 𝗍𝗁𝖾 𝖺𝗆𝖺𝗓𝗂𝗇𝗀 𝖿𝖺𝗍𝗁𝖾𝗋𝗌 𝗐𝗁𝗈 𝗌𝗎𝗉𝗉𝗈𝗋𝗍 𝗍𝗁𝖾𝗂𝗋 𝖼𝗁𝗂𝗅𝖽𝗋𝖾𝗇'𝗌 𝗆𝗎𝗌𝗂𝖼𝖺𝗅 𝗃𝗈𝗎𝗋𝗇𝖾𝗒𝗌.
𝖳𝗈 𝖺𝗅𝗅 𝗍𝗁𝖾 𝖽𝖺𝖽𝗌 𝗐𝗁𝗈 𝗉𝖺𝗍𝗂𝖾𝗇𝗍𝗅𝗒 𝗌𝗂𝗍 𝗍𝗁𝗋𝗈𝗎𝗀𝗁 𝖼𝗈𝗎𝗇𝗍𝗅𝖾𝗌𝗌 𝗋𝖾𝖼𝗂𝗍𝖺𝗅𝗌, 𝗃𝖺𝗆 𝗌𝖾𝗌𝗌𝗂𝗈𝗇𝗌, 𝖺𝗇𝖽 𝗉𝗋𝖺𝖼𝗍𝗂𝖼𝖾 𝗌𝖾𝗌𝗌𝗂𝗈𝗇𝗌, 𝗍𝗁𝖺𝗇𝗄 𝗒𝗈𝗎 𝖿𝗈𝗋 𝗒𝗈𝗎𝗋 𝗎𝗇𝗐𝖺𝗏𝖾𝗋𝗂𝗇𝗀 𝖾𝗇𝖼𝗈𝗎𝗋𝖺𝗀𝖾𝗆𝖾𝗇𝗍 𝖺𝗇𝖽 𝗅𝗈𝗏𝖾. 𝖸𝗈𝗎𝗋 𝖽𝖾𝖽𝗂𝖼𝖺𝗍𝗂𝗈𝗇 𝗍𝗈 𝗇𝗎𝗋𝗍𝗎𝗋𝗂𝗇𝗀 𝗒𝗈𝗎𝗋 𝖼𝗁𝗂𝗅𝖽'𝗌 𝗆𝗎𝗌𝗂𝖼𝖺𝗅 𝗍𝖺𝗅𝖾𝗇𝗍 𝗂𝗌 𝗍𝗋𝗎𝗅𝗒 𝗂𝗇𝗌𝗉𝗂𝗋𝗂𝗇𝗀.
𝖨'𝗏𝖾 𝗌𝖾𝖾𝗇 𝖿𝗂𝗋𝗌𝗍𝗁𝖺𝗇𝖽 𝗁𝗈𝗐 𝗆𝗎𝗌𝗂𝖼 𝗌𝗍𝗋𝖾𝗇𝗀𝗍𝗁𝖾𝗇𝗌 𝗍𝗁𝖾 𝖻𝗈𝗇𝖽 𝖻𝖾𝗍𝗐𝖾𝖾𝗇 𝖿𝖺𝗍𝗁𝖾𝗋𝗌 𝖺𝗇𝖽 𝖼𝗁𝗂𝗅𝖽𝗋𝖾𝗇. 𝖳𝗁𝖾 𝗃𝗈𝗒 𝗈𝖿 𝖼𝗋𝖾𝖺𝗍𝗂𝗇𝗀 𝗆𝖾𝗅𝗈𝖽𝗂𝖾𝗌 𝗍𝗈𝗀𝖾𝗍𝗁𝖾𝗋, 𝗍𝗁𝖾 𝗌𝗁𝖺𝗋𝖾𝖽 𝗆𝗈𝗆𝖾𝗇𝗍𝗌 𝗈𝖿 𝗂𝗇𝗌𝗉𝗂𝗋𝖺𝗍𝗂𝗈𝗇, 𝖺𝗇𝖽 𝗍𝗁𝖾 𝖽𝖾𝖾𝗉 𝖼𝗈𝗇𝗇𝖾𝖼𝗍𝗂𝗈𝗇 𝖿𝗈𝗋𝗆𝖾𝖽 𝗍𝗁𝗋𝗈𝗎𝗀𝗁 𝗍𝗁𝖾 𝗅𝖺𝗇𝗀𝗎𝖺𝗀𝖾 𝗈𝖿 𝗆𝗎𝗌𝗂𝖼 𝖺𝗋𝖾 𝗉𝗋𝗂𝖼𝖾𝗅𝖾𝗌𝗌.
𝖲𝗈, 𝗁𝖾𝗋𝖾'𝗌 𝗍𝗈 𝗍𝗁𝖾 𝖽𝖺𝖽𝗌 𝗐𝗁𝗈 𝗌𝗍𝗋𝗎𝗆 𝗍𝗁𝖾 𝗀𝗎𝗂𝗍𝖺𝗋, 𝗍𝖺𝗉 𝗍𝗁𝖾 𝖽𝗋𝗎𝗆𝗌, 𝗌𝗂𝗇𝗀 𝖺𝗅𝗈𝗇𝗀, 𝗈𝗋 𝗌𝗂𝗆𝗉𝗅𝗒 𝖼𝗁𝖾𝖾𝗋 𝖿𝗋𝗈𝗆 𝗍𝗁𝖾 𝗌𝗂𝖽𝖾𝗅𝗂𝗇𝖾𝗌. 𝖸𝗈𝗎𝗋 𝗉𝗋𝖾𝗌𝖾𝗇𝖼𝖾 𝖺𝗇𝖽 𝗂𝗇𝗏𝗈𝗅𝗏𝖾𝗆𝖾𝗇𝗍 𝗆𝖺𝗄𝖾 𝖺 𝗌𝗂𝗀𝗇𝗂𝖿𝗂𝖼𝖺𝗇𝗍 𝖽𝗂𝖿𝖿𝖾𝗋𝖾𝗇𝖼𝖾 𝗂𝗇 𝗒𝗈𝗎𝗋 𝖼𝗁𝗂𝗅𝖽'𝗌 𝗆𝗎𝗌𝗂𝖼𝖺𝗅 𝗀𝗋𝗈𝗐𝗍𝗁 𝖺𝗇𝖽 𝗈𝗏𝖾𝗋𝖺𝗅𝗅 𝖽𝖾𝗏𝖾𝗅𝗈𝗉𝗆𝖾𝗇𝗍.
𝖳𝗈𝖽𝖺𝗒, 𝗅𝖾𝗍'𝗌 𝗋𝖾𝖼𝗈𝗀𝗇𝗂𝗓𝖾 𝗍𝗁𝖾 𝗋𝗈𝖼𝗄𝗌𝗍𝖺𝗋 𝖽𝖺𝖽𝗌 𝗐𝗁𝗈 𝖺𝗋𝖾 𝗇𝗈𝗍 𝗈𝗇𝗅𝗒 𝗌𝗁𝖺𝗉𝗂𝗇𝗀 𝗍𝗁𝖾 𝗇𝖾𝗑𝗍 𝗀𝖾𝗇𝖾𝗋𝖺𝗍𝗂𝗈𝗇 𝗈𝖿 𝗆𝗎𝗌𝗂𝖼𝗂𝖺𝗇𝗌 𝖻𝗎𝗍 𝖺𝗅𝗌𝗈 𝗂𝗆𝗉𝖺𝗋𝗍𝗂𝗇𝗀 𝗏𝖺𝗅𝗎𝖺𝖻𝗅𝖾 𝗅𝗂𝖿𝖾 𝗅𝖾𝗌𝗌𝗈𝗇𝗌, 𝗉𝖾𝗋𝗌𝖾𝗏𝖾𝗋𝖺𝗇𝖼𝖾, 𝖺𝗇𝖽 𝖺 𝗅𝗈𝗏𝖾 𝖿𝗈𝗋 𝖼𝗋𝖾𝖺𝗍𝗂𝗏𝗂𝗍𝗒.
𝖶𝗂𝗌𝗁𝗂𝗇𝗀 𝗒𝗈𝗎 𝖺𝗅𝗅 𝖺 𝖽𝖺𝗒 𝖿𝗂𝗅𝗅𝖾𝖽 𝗐𝗂𝗍𝗁 𝖻𝖾𝖺𝗎𝗍𝗂𝖿𝗎𝗅 𝗁𝖺𝗋𝗆𝗈𝗇𝗂𝖾𝗌, 𝗁𝖾𝖺𝗋𝗍𝖿𝖾𝗅𝗍 𝗆𝖾𝗅𝗈𝖽𝗂𝖾𝗌, 𝖺𝗇𝖽 𝗍𝗁𝖾 𝗌𝗐𝖾𝖾𝗍𝖾𝗌𝗍 𝗆𝖾𝗆𝗈𝗋𝗂𝖾𝗌. 𝖧𝖺𝗉𝗉𝗒 𝖥𝖺𝗍𝗁𝖾𝗋'𝗌 𝖣𝖺𝗒! 🎵🎶❤️
Happy Mother's Day!
Saturday, May 13, 2023 by Judy Stafford | Family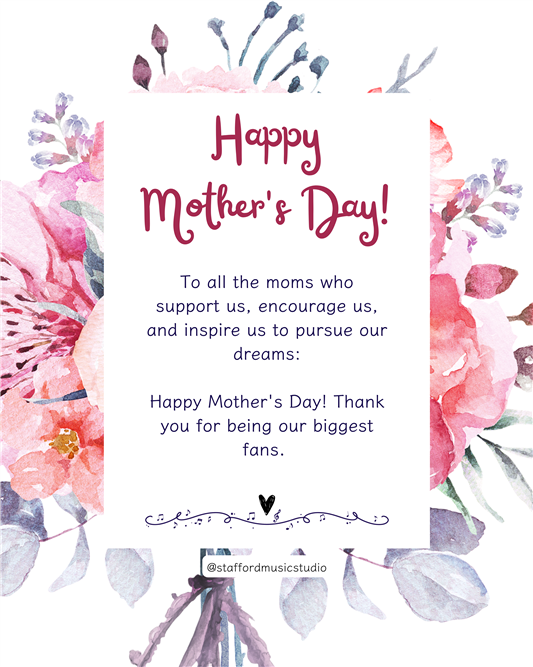 Happy Mother's Day to all the amazing moms out there! Today, we're celebrating the special bond between mothers and their children.
We know that behind every musician, there's a mom who supported their dreams, encouraged their creativity, and cheered them on every step of the way.
To all the moms who sacrificed their own needs to give their children the gift of music, we say thank you. Your love and dedication have inspired us to create beautiful music that touches the hearts of people around the world.
To the moms who stay up late to drive their kids to rehearsals, who sit through countless practice sessions, recitals and concerts, who teach their children the value of hard work and perseverance, we salute you. You are the unsung heroes of the music industry, and we couldn't have done it without you.
So today, we honor and celebrate you, the moms who make our lives 𝐫𝐢𝐜𝐡𝐞𝐫, 𝐛𝐫𝐢𝐠𝐡𝐭𝐞𝐫, 𝐚𝐧𝐝 𝐦𝐨𝐫𝐞 𝐛𝐞𝐚𝐮𝐭𝐢𝐟𝐮𝐥. We hope your day is filled with love, joy, and all the things that make you happy.
𝓗𝓪𝓹𝓹𝔂 𝓜𝓸𝓽𝓱𝓮𝓻'𝓼 𝓓𝓪𝔂 ❤️🎹🎶🎤🌟