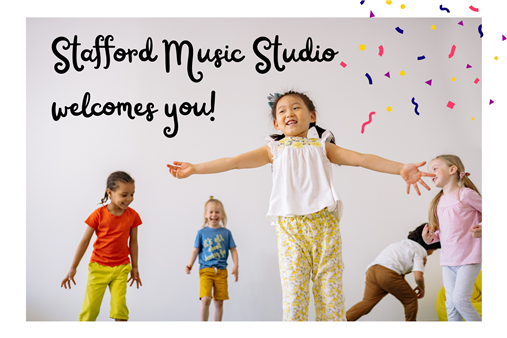 Welcome, students and families!
For over twenty years, Stafford Music Studio has been offering voice and piano lessons in a fun and engaging way. In lessons, we ensure each
student's natural joy of learning is nurtured to help build their confidence and gain mastery in their instrument. Lessons are conducted in an open, safe, and nurturing environment where all students can thrive.
Our teachers have decades of teaching and performing experience, with backgrounds in music performance or music education degrees. Our mission is to provide high-quality music lessons to the youngest members of our community, and instill that love and appreciation of music from the very beginning.
What are you looking for in a teacher? No time to read? Let's have a no-commitment chat to get a feel for what you're looking for before setting up a lesson. Click this link to book a Getting To Know You session - let's start from there.
---
Mission:
---
𝄞 to give students a well-rounded music education (healthy technique, music theory, aural skills, sight-reading, sight-singing, ear training, and building skills on chosen instrument - voice or piano)
𝄞 to inspire confidence by breaking down difficult passages and analyzing the music to really understand it, creating achievable mini goals so we can celebrate more often,
𝄞 to develop artistic excellence by working on small details that are sometimes overlooked,
𝄞 to help individuals realize their full music potential to be great musicians by first being their number one cheerleader, encouraging them to always give their best, and by teaching them on how to maximize their time when practicing, so they focus on quality practice rather than the amount of time spent practicing.
---
Lessons offered:
---
Voice Lessons / Singing Lessons
Piano Lessons / Keyboard Lessons
Mini Musicians Pre-Piano Program
Music Theory Lessons
Ready for Lessons? Sign up here.
For inquiries: Click here.
---