Bunny Invasion Studio Challenge Winners!
Sunday, April 9, 2023 by Judy Stafford | Studio Fun
Here is a live screen share of Stafford Music Studio's Bunny Invasion Challenge Raffle Draw!

Our studio received so many stuffed bunnies from a beloved friend who IS an avid collector for our Suzuki Voice Program. I was so surprised that we were gifted a really big family of bunnies! This Bunny Invasion Studio Challenge is in response to that. Here is a previous post about it in case you missed it.

Thank you to everyone who participated in our challenge. I know that some of you DO indeed practice often, but may not have made it onto the Student Practice Log. Right? Right? #benefitofthedoubt 😉 I know you all do, because you come to our classes very prepared! Thank you for all your hard work.

I will send your bunnies over to the addresses you have on file. Congratulations to the winners!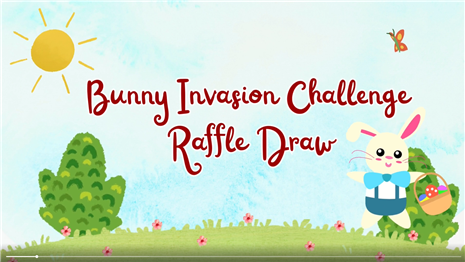 Bunny Invasion!!! Studio Challenge - All are invited!
Monday, February 13, 2023 by Judy Stafford | Studio Fun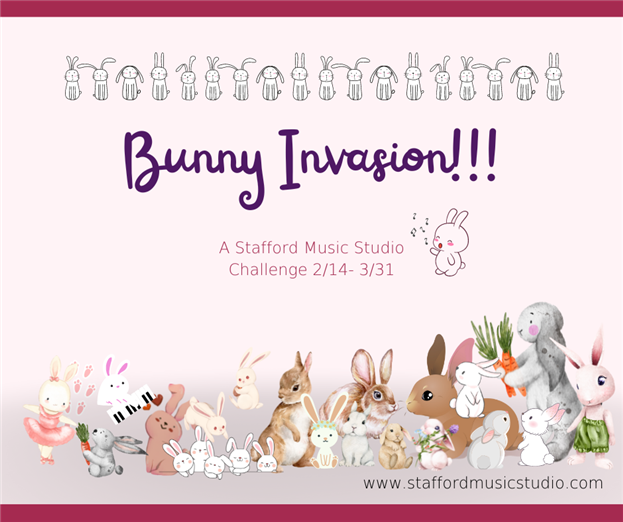 A very generous friend who is an avid bunny collector heard that I am looking for a bunny family for one of the Suzuki songs, and also to use for a bunny song that I have recently wrote (called Counting Bunnies).

Well, she delivered them to my home studio last week.

Where I thought it would be a family of about 4-5 bunnies, I was mistaken. IT WAS LITERALLY ♫ THREE (trash) BAGS FULL ♫, plus a large storage bin of it! I now have a BUNNY INVASION over here! 🐇🐰 😂😍 My daughters already claimed one each as their own. Named it, and have been sleeping with them in their beds, lol.

I asked my friend Marie if she saved anything for herself, because she is more than generous to share so much with me. She said to me, "Oh yes, I have a lot more." 🫢😮 These bunnies are very well loved, named, and taken good care of. Some still have tags on, so beautiful and so, so precious. She is very happy that the bunnies will be going to good homes, and that they will be played and loved. I sang with Marie a few years back in a local choir here in Quincy, so she shares our love of music.

Needless to say, the amount of bunnies I have is more than I could use, even after leaving some at Cornerstone Preschool to use as props for my toddlers and preschoolers in our music classes, even after sharing it with other Suzuki teachers to be shipped out of state who would love some bunny families to add to their lessons, I still have a few more to share!

I thought, you know who else would love this? My students of course! So I would take you all on a challenge. Everyone within the studio can join.

Rules on how to enter:

1. For every DAY you practice from Valentine's day until the last day in March, your name will be added onto the raffle as one entry.

2. You need to use the Practice Log option in our Student Portal, and log in your practice time. Preferably with a quick video/audio of your practice (video/audio optional - we will go by honor's code, I trust you!). This will be how I can count your entries.

3. THREE WINNERS will be chosen randomly. The more days you practice, the more chances of winning!
(If you practiced everyday, that is 46 entries! 😮)

That's it!!! So get practicing!

I will update in the near future with what sort of bunnies we have up for raffle. But take my word for it, each one is so precious! (Think Peter Rabbit and their little outfits, some are fluffy, some are BIG, some super cute, some are ballerinas, and some have glasses..more! I haven't looked through them all yet.)

*If you are not close by I will happily ship it to you. So get practicing! 😍🐰🐇 A bunny is waiting to go home and find you!

As usual, if you'd like any feedback on your practice, attach a video/audio/picture of your work, and check the box that says to send an email to teacher. This will make sure I get notified, and I will be able to pop in and give you your feedback.

Happy practicing!!! 🐇🐰🐇🐰🐇